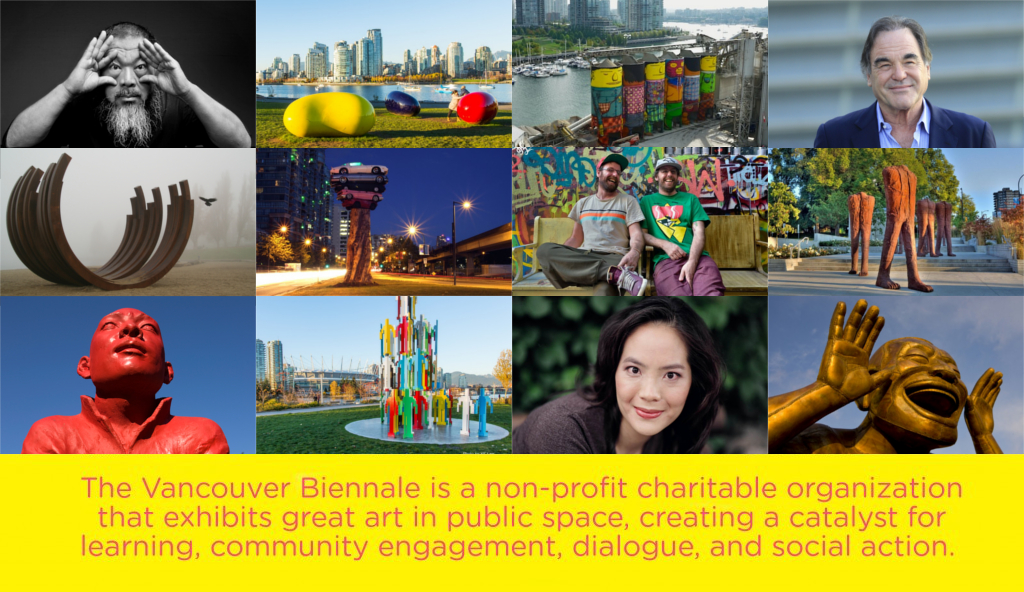 The Organization
The Vancouver Biennale is a non-profit charitable organization that exhibits great art in public space, creating a catalyst for learning, community engagement, dialogue, and social action. Our mission is to make Public Art accessible, engaging, and motivating to create vibrant and inspired communities.
Our exhibitions are unique in the world in that we feature sculpture, new media, film, music and performance. We transform the urban landscape into an Open Air Museum, creating unexpected and globally inspired cultural experiences where people live, play, work and transit. With each exhibition, we demonstrate that great public art is an economic driver by creating magnetic cultural attractions for visitors, and foundational to creating livable, creatively inspired communities where installations become a social bridge for people of all ages, cultural backgrounds, educational levels and financial wherewithal to come together as neighbours to explore, learn, dialogue and imagine.
The Vancouver Biennale (Vancouver International Sculpture Biennale/Biennale Internationale de la Sculpture de Vancouver) is funded through grants, corporate sponsorship, gifts in-kind, philanthropic donations and supplemented by the sale of art after each exhibition. 100% of the net profits from the sale of Biennale artworks are used to fund the exhibitions and programs. The Vancouver Biennale charitable registration number is 85193 4273 RR0001.
We are committed to building the cultural assets of our partnering communities for the benefit of generations to come. To date, the Biennale has facilitated the acquisition of over $3M worth of public art donated to our host cities as a lasting legacy of the Vancouver Biennale exhibitions. Artworks include the iconic A-maze-ing Laughter, the only public art installation in the country nominated as one of the Great Places in Canada.
Programs
Open Air Museum


The Vancouver Biennale flagship, curated international art exhibition in public spaces that are accessible to local communities and visitors. The exhibition creates livable, creatively inspired communities and inviting gathering places by local and international artists, such as Ai Weiwei (China), Dennis Oppenheim (USA), OSGEMEOS (Brazil), and Michel Goulet (Canada).
International Artist Residency Program

A cultural exchange of creativity between nations and artistic disciplines. 92 breakthrough artists of merit from North America, Asia, Northern Europe, North Africa, the Middle East and Latin speaking countries participated in this program. Each residency runs over 4 to 6 weeks period with 4 to 6 artists facilitated by a residency coordinator. Participating artists create public installations and social interventions, deliver public lectures and open house workshops, providing opportunities for local communities and artists to benefit from reciprocal sharing of ideas, technique and professional network. 
Biennale CineFest Live
The Vancouver Biennale hosts events, screenings, masterclasses and education series dedicated to curated art documentaries from around the world celebrating master filmmakers and provocative artists, such as Oliver Stone and Ai Weiwei.
BIG IDEAS Education
A key Biennale community outreach program that is socially inclusive providing resources to all grades and schools within British Columbia. BIG IDEAS is an art-inspired program integrates the Vancouver Biennale, current and legacy Biennale exhibitions, and the B.C. Curriculum. Through an annual BIG IDEAS in-School artist collaborator grant, the program brings local artists to collaborate with teachers in the delivery of art-infused inquiry learning sessions to foster creative, critical and reflective learning opportunities.
Vancouver Tour de Biennale and Bikennale

Tour de Biennale is a charity bike ride that combines recreation cycling with arts and culture. Bikennale is a family outdoor sports event that is held in Biennale host communities.
Legacy


A program that builds cultural assets of our partnering communities for the benefit of future generations. To date, the Biennale has successfully facilitated over $3 M donation in public art to our host cities.
Our History
The Vancouver Biennale has its early roots in a 1998 collaboration with the Vancouver Parks Board, which brought leading names in international sculpture to Vancouver for a 4-month exhibition along a stretch of public parkland at English Bay. Over seven million viewers experienced this unprecedented display, resulting in excellent public feedback, a second public exhibition in 2000, and the incorporation of the Vancouver Biennale as a non-profit charitable organization in 2004.
The 2005-2007 exhibition was the first under the name Vancouver Biennale, and consisted of an 18-month exhibition of 22 international public installations over a larger geographical footprint along oceanfront walkways, in public parks and in major intersections throughout Vancouver. The 2009-2011 Biennale experienced another wave of explosive growth, recognition and media attention, featuring 37 artworks in Vancouver, Richmond, Port Moody and West Vancouver.
In total, the Vancouver Biennale has featured 91 outdoor sculptures and new media works by 78 participating artists from 25 countries and 4 continents. Along the way, the Biennale has established strong municipal partnerships, relationships and alliances with other arts organizations, international biennales, curators, auction houses and media, extending our audience and promotional impact globally. The Vancouver Biennale has increasingly become an exhibition of record, helping transform Metro Vancouver into a major cultural destination and centre of artistic vibrancy. By any international standard, our alumni are an impressive and influential group of contemporary artists.